[row_box style="border box_white box"]
[col type="1_3″ class="box border box_white"][title type="h3″ class="title_border"]About Hotel Lido***[/title]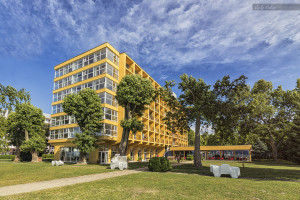 Hotel Lido Siofok *** with its own private beach  is located in the most beautiful promenade of Siofok. The promenade is called Petőfi promenade. The area is full of restaurants and bars and it is considered to be the center of Siofok nightlife.
The hotel itself lies directly on the shore of Lake Balaton and it owns a private beach which only our guests can use. We have a limited number of sun beds to comfort your sunbathing.
Button
[/col]
[col type="1_3″ class="box border box_white"][title type="h3″ class="title_border"]Vacation packages and deals[/title]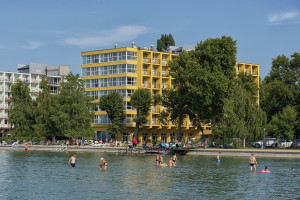 If you are looking for a special deal or package for you Lake Balaton holiday, check out our possibilities.
Button
[/col]
[col type="1_3″ class="box border box_white"][title type="h3″ class="title_border"]Our news[/title]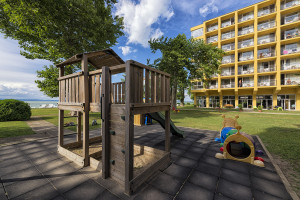 Check out our Facebook site for more special packages just for our Facebook fans.
Please note that we are open only from 29.04.2016.-02.10.2016 although a booking is possible all year around.
[/col]
[/row_box]
About the Siofok hotel in details
Hotel Lido is one of the most popular Lake Balaton hotels with its own private beach in Siofok, one of the most famous Lake Balaton resorts.
As it is called the "hotel row", Lido*** is the second building next to Balaton Hotel Siófok. Siofok has a large number of hotels which are directly situated along the shores of Lake Balaton but hardly will you find on the Golden Beach area 4* hotels for they are mostly 3* hotels. Nevertheless, they are modest, comfortable, clean and location is ideal just like our hotel that offers all the amenities that you would require for a simple but enjoyable holiday whether short or extended.
All of our rooms are equipped with air-conditioning!
The hotel has been completely renovated to a more than adequate three-star standard. Each of the rooms of the Hotel Lido are equipped with panoramic balconies that provide a lovely view of the Lake Balaton, air-conditioning / EUR 8/night/room /, bathroom with showers, mini-fridge and satellite LCD TVs. The rooms face either east (morning sunshine), or west (afternoon sunshine). There is a huge lakeside garden, free sunbeds (limited in number).
Our room types
The following room types are bookable: double room, double room with single usage, triple room, family double room with a bunk bed for two children under 12 and our family apartment with two bedrooms and stunning full panorama over Lake Balaton.
Please note that all of our rooms are non-smoking. Smoking is allowed on the balconies and outside areas.
About our meals
In the mornings we serve your breakfast in the form of buffet.  The daily buffet breakfast is the usual standard of eggs, bacon, cold cuts, fruits, fresh rolls etc. All of our guest can take their own choice. We offer half board also in our restaurant also buffet one with one choice of daily soup, three main courses (one vegetarian for those who unlike meat), salad buffet and a dessert.
Other important hotel amenities
In Siofok Hotel Lido *** 24-hour reception, central safe, fax are available free of charge. We can arrange local taxi transfer.
We offer free Internet and Wi-Fi connections in the lobby.
There's parking right in front of the hotel for which the town hall charges cars on an hourly basis from 15th May to 15th September so we suggest that you use our parking lot at the price of €5 per day. The parking lot can be found 150 m away from the hotel. Free parking is subject to availability in the nearby street.
We try to belong to the eco-friendly hotels which means that we collect waste selectively. Our warm water comes from solar panels built on the roof. We appreciate if guests take part in using less water when they do not prefer fresh towels every day.
About our area in Siofok and Lake Balaton
About Siofok Hotel Lido surrounding Siofok area
All over the place are restaurants, bars, sidewalk cafes, ice cream parlors and boutiques. Approx. 10 minutes walk will take you to the heart of Siofok, ideal for afternoon strolls along its parks and square or a bit of shopping at their small boutiques then a bite of delicious pancakes.
About Lake Balaton and bathing
Lake Balaton is the largest lake in Central Europe, it has wonderfully warm and limpid waters, but the southern shore of Lake Balaton is extremely shallow – you can walk for hundred of meters and the water is still only waist deep. Great for children, and the 'walk in the water' is also a pleasant experience for adults.
Siofok Hotel Lido reviews
What our guests say about us
"Great hotel, nice holiday"
5/5 star
Time of review: June 25th 2013
We spent a great week in the hotel with 2+2 family. Siofok Hotel Lido went through a freshly decoration from outside and inside, the bathrooms got a modern look, not like on the photo above. The furniture stayed as on the pics, but very comfortable beds, no problem.

The main good things are: private clean beach, sun beds (although not enough for all the guests), private playground and indoor playroom for kids, microwave oven on the corridor (comes great if you take the doggy bag home from the restaurant), fridge in the room. Across the road there is a great supermarket with cheap prices and freshly baked bakery, within 200 meters numerous restaurants.
Downs: probably it can get noisy at peak periods because it is in the centre. No air con, but fresh breeze is coming from the lake at night, relatively small rooms  ( we now have air-conditioning in all our rooms).

All together it was clean, safe with the kids, staff is very helpful and nice, I can highly recommend it.
"Must"
5/5 star
Time of review: September 12th 2014
We stayed at this hotel from 23rd Aug. It was above our expectations as it offered a nice ambience and clean areas and the staff acted super friendly. We booked half board and the food was good. We had very nice weather during this period, around 28 degrees, and a few days of rain, but after rain came sunshine! We were there by car but we did not need it as the hotel is easily within walking distance of the everything. Our experience at the Hotel Lido was very good and worth repeating !!
"Good position"
4/5 star
Time of review: August 29th 2015
Good position (near the Balaton Lake), clean hotel, recent renovated, nice staff, good Beach, near restaurants, clubs and bars.
We felt like at a see, even the weather was not good. For sure will turn back to this hotel.
10/10 points
Laura from Slovakia wrote:
Time of review: September 7th 2016
"Everything was ok :). The view from the hotel was gorgeous and the breakfast was very good. The personal was nice and that's all 🙂 "